What makes a good law firm website?
Find out how we can grow your business
What makes a good law firm website?
In today's digital age, a well designed website is crucial for any business, including law firms. A law firm's website serves as its virtual storefront. A website offers potential clients a first impression of a firm's professionalism, expertise, and legal services.
To succeed in the legal field, it's important to have a website that shows your skills and makes visitors feel confident. So, what makes a good law firm website, and what should be included?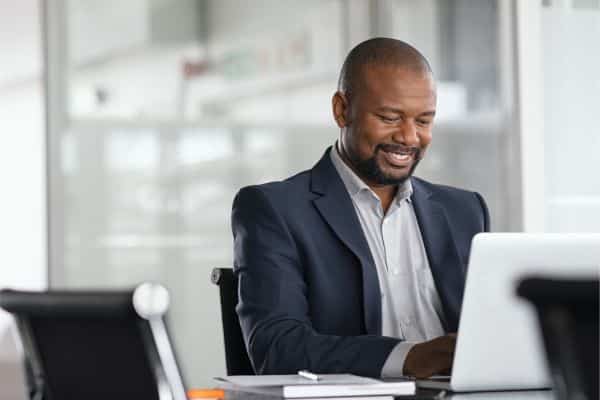 Clear and engaging content
The cornerstone of any effective law firm website is clear, concise, and engaging content. The language should be accessible to a wide audience, avoiding excessive legal jargon that may confuse or intimidate website visitors. Instead, the focus should be on explaining complex legal concepts in a simple way. This will demonstrate the firm's commitment to helping clients understand and feel empowered.
User friendly navigation
Intuitive navigation and a great user experience is paramount to ensure that visitors can easily find the information they seek. A well-structured menu, with clear labels and subcategories, guides users through the website seamlessly. This includes a prominent and accessible menu bar, a search function, and strategically placed calls-to-actions.
Mobile optimisation
In an era dominated by smartphones and tablets, a mobile-friendly website is non-negotiable. A responsive design ensures that the website functions seamlessly on various devices and screen sizes. Google's algorithms also favour mobile-friendly websites, improving search engine rankings and visibility.
Professional aesthetics
Aesthetics matter; a visually appealing website exudes professionalism and builds trust. Clean, uncluttered layouts with a cohesive colour scheme and high-quality imagery convey a sense of credibility. Moreover, well-designed logos and branding elements contribute to a memorable online presence.
Effective use of imagery
Images, including professional headshots, office photos, and relevant legal graphics, enhance the visual appeal of the website. They humanise the firm, allowing prospective clients to connect with the attorneys on a personal level. It is crucial to ensure that images are high-resolution and properly optimized for fast loading times.
Compelling calls to actions (CTAs)
Strategically placed CTAs guide visitors toward meaningful actions, such as contacting the firm, scheduling a consultation, or subscribing to a newsletter. These CTAs should be clear, concise, and compelling, encouraging visitors to take the next step in their legal journey.
Informative practice area pages
Clear and detailed descriptions of the firm's practice areas are essential. Practice areas should not only be shown on the website home page, they should also have their own individual service pages. Each page should provide an overview of the legal services offered, showcase relevant expertise, and highlight notable cases or successes. Well-organised practice area pages demonstrate a deep understanding of various legal matters and reassure potential clients of the firm's capabilities.
Client testimonials and case studies
Client testimonials and case studies serve as powerful social proof, demonstrating the firm's track record of success and client satisfaction. Genuine testimonials and anonymised case studies showcase real-world results, instilling confidence in potential clients.
Blog, news and resources
A regularly updated blog or resource centre establishes the firm as an authoritative voice in the legal field. It allows for the sharing of valuable insights, legal updates, and practical advice, demonstrating the firm's commitment to education and client empowerment.
Clear contact information
Providing easily accessible contact information is paramount. This should include the firm's physical address, phone number, and a contact form. Placing this information prominently on the homepage and in the website footer ensures that visitors can quickly and easily get in touch.
Live Chat Functionality
Integrating a live chat feature on the website allows for real-time communication between potential clients and the firm. This instant accessibility can make a significant difference in converting leads. It provides visitors with immediate answers to their queries and showcases the firm's commitment to client responsiveness.
Online Appointment Booking
Offering the option to schedule appointments online streamlines the process for potential clients. A user-friendly booking system allows visitors to select a convenient time for consultations, improving the overall client experience.
Social Media Integration
Including links to the firm's social media profiles can further enhance communication channels. Social platforms like LinkedIn, Twitter, and Facebook provide additional ways for potential clients to connect with the firm and stay updated on its activities and insights.
Strong SEO strategies
An effective Search Engine Optimisation (SEO) strategy is crucial for ensuring the website ranks well in search engine results on Google and other search engines. This involves keyword research, on-page optimisation, quality content creation, and a robust backlink profile. High-ranking search results increase visibility and attract organic traffic.
So, what makes a good law firm website?
A well-crafted law firm website is a powerful tool for attracting and converting potential clients. By incorporating clear and engaging content, user-friendly navigation, mobile optimisation, professional aesthetics, and other key elements, a law firm can create a compelling online presence that sets it apart in the competitive legal landscape. Remember, a successful website not only showcases legal expertise but also builds trust, establishes credibility, and ultimately drives client acquisition.
What makes a good law firm website get noticed online?
A good law firm website needs to stand out in a crowded online space. Several strategies can help a law firm's website get noticed.
Search Engine Optimisation (SEO): Implementing effective SEO strategies ensures that the website ranks well in search engine results pages (SERPs). This involves keyword research, on-page optimization, quality content creation, and building high-quality backlinks. A strong SEO foundation increases the website's visibility and attracts organic traffic.
Quality Content Creation: Regularly publishing high-quality, informative, and engaging content is key. Blog posts, articles, case studies, and legal guides not only demonstrate the firm's expertise but also improve search engine rankings. Content marketing should be relevant to the firm's practice areas and tailored to address common legal questions and concerns.
Local SEO Optimisation: For law firms targeting specific geographic areas, optimising for local search is crucial. This includes making and improving Google My Business profiles, keeping information consistent in online directories, and getting local reviews.
Social Media Presence: Active engagement on social media platforms helps in building a brand presence and driving traffic to the website. Sharing legal insights, updates, and content attracts followers and encourages them to visit the website for more information.
Online Advertising (PPC): Pay-per-click (PPC) advertising campaigns, such as Google Ads, can be effective for driving targeted traffic to the website. Well-structured ad campaigns, coupled with compelling ad copy and relevant landing pages, can lead to increased visibility and conversions.
Email Marketing: Building a mailing list and sending out regular newsletters can keep clients and potential clients engaged. Newsletters can include updates on legal trends, recent case successes, and invitations to webinars or events hosted by the firm.
How can BSD Legal assist your law firm?
Are you searching for a law firm website designer? BSD Legal are a specialist law firm web design agency with the expertise and experience required to help your firm succeed online.
We understand what makes a good law firm website, and what to include to make your firm stand out from the crowd.
We regularly work alongside law firms to increase their visibility online and generate more web traffic. Our legal marketing agency is well equipped to provide law firm web design and SEO services.
Our client portfolio consists of personal injury, commercial law, family law, legal costs firms and legal IT businesses.
We are able to provide bespoke packages to suit the individual needs of each business we work with. Therefore, you can rest assured that we are fully committed to improving your outreach in the legal industry.
For more information on how we can assist your business, please contact using the details below.
Get in Touch
01204 236028
Open Hours
08:30 – 16:30 
Monday- Friday
Our Office
4 Bark Street East
Bolton, BL1 2BQ
What we Do
SEO
Web design
Social media management
WordPress management
Find out how we can grow your business