How to Attract Clients to Your Business
Find out how we can grow your business
In the digital age, attracting clients to your business can be a complex endeavour. However, with the right approach, any business owner can amplify the reach of their products or services. Digital marketing strategies have rapidly evolved, with tools and platforms offering a myriad of options to reach potential customers. This article provides advice on how to attract clients to your business.
Understand your target customers
Every small business owner needs to have a clear understanding of their target customers. This means diving deep into understanding their needs, preferences, behaviours, and pain points. Knowing your audience enables you to tailor your marketing strategies to resonate with them.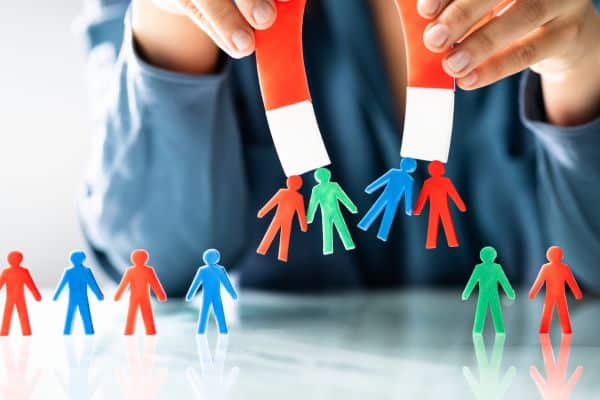 How to attract clients to your business using SEO
In today's digital landscape, if you're not on the first page of a search engine, you're likely not getting the desired attention. Invest in Search Engine Optimisation (SEO) to make your website design user-friendly and easily discoverable. Remember, many customers who haven't heard of your brand will begin their journey through a search engine query.
Leverage social media platforms
Social media platforms are essential in the modern marketing plan. Not only do they provide a platform for you to showcase your products or services, but they also allow you to engage and build relationships with your customer base. Whether it's through Facebook, Instagram, Twitter, or LinkedIn, ensure you have a consistent and engaging presence. Regularly create content that resonates with your audience and reflects the values and offerings of your brand.
How to attract clients to your business with content marketing
Content marketing is more than just blogging. It's about creating valuable, relevant, and consistent content to attract new customers. This could be through articles, infographics, videos, or podcasts. The idea is to provide value and position yourself as an industry leader.
Participate in community events – Virtually and physically
Whilst digital marketing is essential, integrating online with offline marketing tactics can be highly effective. Participate in community events or webinars, which can be great platforms to showcase your expertise and network with potential clients. Even in the digital realm, personal connections can make a massive difference.
Refine your sales process
Digital marketing can drive traffic, but it is your sales process that will convert this traffic into loyal clients. You should ensure your business has a streamlined and customer-friendly sales process. This includes having clear calls-to-action, easy navigation, and providing avenues for potential clients to leave their contact details.
Email marketing: The underrated giant
One of the oldest forms of digital marketing, email marketing, remains one of the most effective ways to reach and nurture your audience. Regular newsletters or updates can keep your brand on top of the mind of potential customers. Just make sure your content offers value and isn't overly promotional.
How to attract clients to your business through collaboration
Collaborating with complementary businesses can expand your reach significantly. For instance, if you own a gym, partnering with a local health food store can expose your brand to customers who haven't encountered your business yet.
Engage and respond
Digital marketing isn't a one-way street. Engage with your audience on social media platforms, respond to comments, address concerns, and actively participate in discussions. This not only builds trust but also fosters a community around your brand.
How to attract clients to your business using paid marketing campaigns
Whilst organic growth is fantastic, sometimes you might need a boost, especially when you're launching new products or services. Paid marketing campaigns on platforms like Google Ads or Facebook can offer that extra push to get in front of your target audience.
Feedback is gold
Always seek feedback. Whether it's through online reviews or direct surveys, understanding what your customers think can provide insights into areas of improvement. This can directly influence your marketing strategies and help in refining your approach.
Conclusion
For a small business owner, the digital landscape offers a plethora of opportunities. It's not about implementing every tool available but selecting the right marketing tactics that align with your brand and audience. Remember, the end goal is not just to attract new customers but to build relationships that result in loyalty and referrals. Regularly revisit and adapt your marketing plan to remain relevant and ensure you're always meeting the needs of your ever-evolving customer base.
How can Bark Street Digital help you attract clients to your business?
In today's digital age, having a robust online presence isn't just beneficial—it's essential. For many businesses, particularly small and medium-sized enterprises, managing digital marketing in-house can be challenging. This is where digital marketing agencies, such as Bark Street Digital, come into play. These agencies bring expertise, tools, and strategies that can propel a business forward, attracting new clients and boosting growth.
When working with Bark Street Digital, you have access to a team of experts who have diverse digital marketing experience. We have worked with multiple clients across industries, giving us a unique perspective and broad knowledge on what works and what doesn't.
To find out more about any of our services, please feel free to contact us via the forms on our website or email our Director on stacey@barkstreetdigital.co.uk
Get in Touch
01204 236028
Open Hours
08:30 – 16:30 
Monday- Friday
Our Office
4 Bark Street East
Bolton, BL1 2BQ
Find out how we can grow your business