How SEO can grow your business
Search Engine Optimisation (SEO)
Search Engine Optimization (SEO) is a method by which a business can increase their visibility on search engines such as Google, Bing, and Yahoo. There are many long term benefits of SEO strategy, the main one being that it can increase the growth in your business massively without having to set a budget for paid ads. To find out how SEO can grow your business, read the information below:
SEO Content
To optimise your web pages for a search engine, SEO content must be produced. This content may be in the form of written articles, blog posts, or multimedia content. When preparing content for our clients, we draft in a way which improves your websites position on a results page. One of the main ways of optimising your content for search engines is through the implementation of specific key words that relate to the content.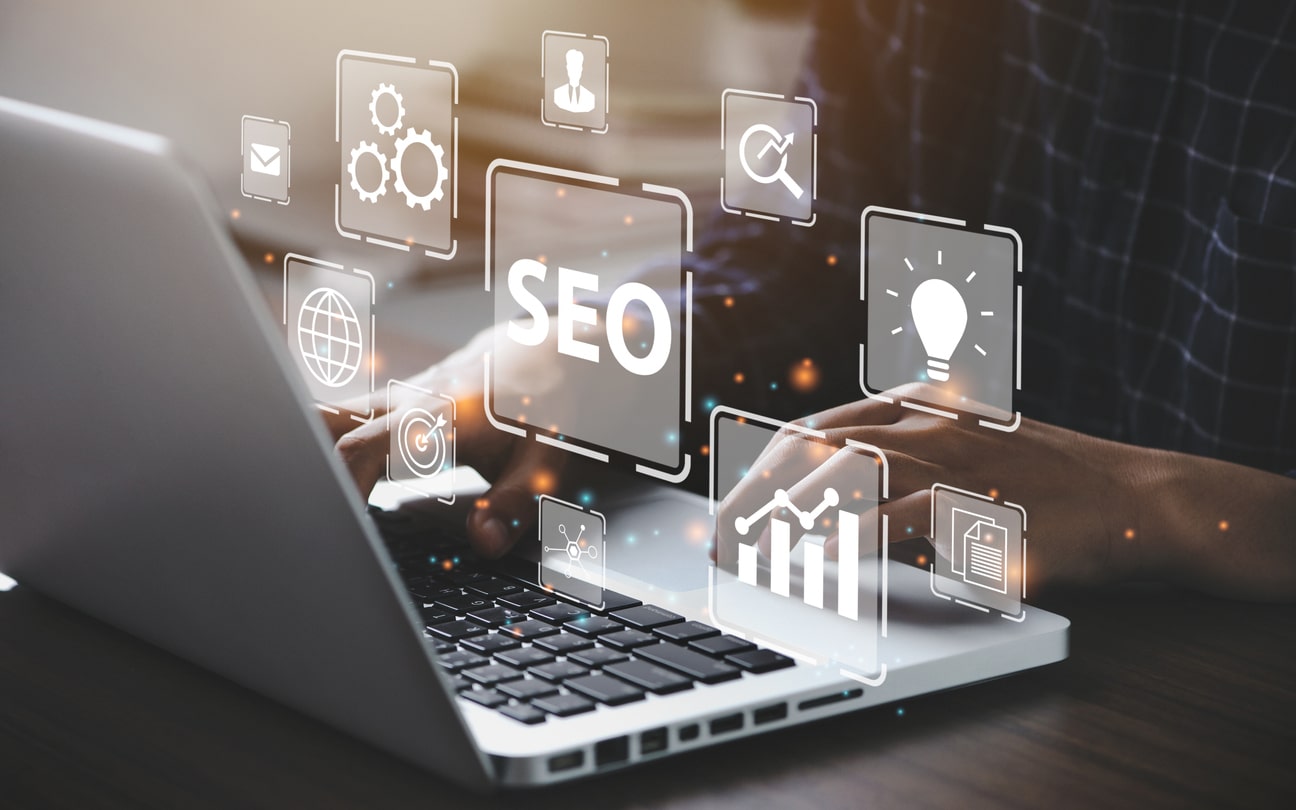 the key words relate specifically to the content in which we are preparing, our work is personalised to each client and our team undertakes thorough research on each specific industry before the completion of any content.
How SEO can grow your business
1) Search engine rankings
When a customer makes a search query and search results appear, the websites will be ranked. If an effective SEO strategy is used, then a website will be higher up in the rankings, thus making it more likely that a customer will click on your page and find your product or services. 
Local SEO is also very effective for local searches, as optimisation could allow tradesmen or businesses to source work in the local area. However, SEO can affect rankings on a wider scale as well.
2) Attracting potential customers
SEO content will attract organic potential customers to your site because it is personalised to your product or service, thus fully engaging with the customers' needs.  As engagement levels with a website increase, the likelihood of your website ranking higher increases concurrently. Therefore, SEO content is a great place to begin, as its application on your site will only grow your customer base exponentially.
3) Reducing Costs
SEO content is a very cost effective form of marketing as its online engagement will drive more customers to your site and improve online visibility. Alongside this, the content provides education on your product or services. Once SEO content is being frequently produced and updated, businesses are less reliant upon PPC campaigns and other forms of online paid marketing. 
At Bark Street Digital, we encourage use of free platforms such as 'Google My Business'. These profiles are useful when customers are seeking information about your company, for example, opening times or contact details. 
Once a business reduces their spend and starts to use their marketing budget in a smarter way, they will have more funds to spend on other areas of the business, such as product development, encouraging company expansion.
4) Increases User Experience
It is important that customers learn about your business when they click on your website. The SEO content produced by our team is personalised and drafted to the particular needs of each client. As a result, it directly answers a lot of customers questions and drives them to the product or service offered by the business.
Furthermore, we find it important that content is interesting and engaging, as this ensures that it stands out from other businesses marketing the same products or services. If content intrigues customers, they will be more likely to click on the page, thus driving up rankings and growing the business.
5) SEO's Long Term Benefits
SEO is unique to other marketing techniques as it does not always guarantee instant results. However, this should not deter companies from implementing it as a marketing strategy. 
Instead of quickly creating attention which burns out rapidly, customer numbers should build as the SEO content is produced. Once engagement with the SEO content has increased, the website will begin to rank higher in search engine results. A high ranking is extremely impactful and when marketing strategies are monitored and upheld, the engagement with the website is likely to continue growing.
6) Improves your conversion rate
A conversion rate is a figure which demonstrates how many individuals have been converted into completing an action. It can be based on different actions depending on the type of business, but it usually relates to clicks. Therefore, a click focused conversion rate would be worked out by working out the total number of clicks on a website compared to the number of customers. 
Through the implementation of SEO strategy, we can guide targeted traffic to your website, as opposed to traffic with unrelated needs to what your business offers. This will convert more clicks into business growth as potential customers will be able to find you easily.
As we employ a team of expert writers, our content not only attracts traffic to your site, it also converts traffic into paying customers. 
How do our writers produce high quality SEO content?
As mentioned above, the writers at Bark Street Digital conduct research and use tools to identify the most appropriate keywords for the content. The keywords are detected by studying keyword competition from other websites and the monthly search volume for specific words and phrases. 
Next, our writers engage in thorough content topic research. As professionals who are keen to engage with our clients, we are interested to find out more about our client's businesses. Therefore, we conduct thorough research on everything we write about, allowing us to have a wide portfolio of companies as clients. Sometimes, we may require input from you, as we want to guarantee that all of the information we provide in our content is 100% accurate. 
Our writers are very skilled in their profession and have the ability to create a variety of engaging SEO content. This content includes marketing articles, blog posts and search pages for your website. It is important to include a range of this content on your website so that customers are intrigued to click on different pages, as opposed to becoming bored by a very lifeless site.
How to start utilising SEO to grow your business
When businesses want to begin to include high quality SEO content on their website, we always recommend beginning with an SEO audit. 
Firstly, our audit includes us getting to know your company and understanding your business process. To do this, we want to know your business goals, how you would like to better your website, what your current website looks like, and the content you have on your site. 
Once we have this foundational knowledge, we can use our expert marketing tools and technical knowledge from our experience to analyse your website. This analysis will allow us to understand the areas which you are already marketing well and the areas which may require some extra input. 
The final stage is to compile our findings into a report. Within this document, we will highlight our findings and then provide guidance on the best marketing method to proceed with.
Why choose Bark Street Digital?
The team at Bark Street Digital is made up of experts in digital marketing and IT. We specialise in SEO and organic digital marketing, however we can also implement the use of other marketing strategies into our work, such as social media pages. Moreover, the team can monitor your presence as a business on search engines, such as your 'Google My Business' page. 
When an individual is running their business alongside completing its marketing, mistakes can often me made. By employing dedicated marketing strategists, this will not happen as we take time to work on strategy and ensure that all the content we produce is outstanding. 
By investing in thorough marketing, our clients have increased profitability of their businesses. Therefore, allowing their business to keep growing and growing. 
As a company with a variety of clients on our portfolio, we understand that all companies require different services. This is why we offer individualised packages at competitive prices. To find out more information about these packages, please take a look at our services page. 
If you are still wondering how SEO can grow your business, please contact us on 01204 263028 to speak to a dedicated member of our digital marketing team.
Get in Touch
01204 236028
Open Hours
08:30 – 16:30 
Monday- Friday
Our Office
4 Bark Street East
Bolton, BL1 2BQ
What we Do
SEO
Web design
Social media management
WordPress management