How to Survive a Recession Using Digital Marketing
With the current cost of living crisis in full swing along with rising interest rates, it is no wonder the word 'recession' has made a comeback. Understandably, most people in the country, from all walks of life, are already feeling the sting of the recession and the worry that it is going to get worse before it gets better. For many businesses it will therefore be useful to know how to survive a recession using digital marketing strategies. 
From real estate to job opportunities, a lot of things in society are being met with high demand due to various shortages and it is important to remember that that demand during a recession could be the very thing your business needs to grow in the long term.
Digital marketing is commonly one of the first areas businesses tend to slow down in preparation for a recession, yet we have learnt from previous instances in which recessions have hit that digital marketing campaigns can be an important and worthwhile effort to encourage new sources of income.
At Bark Street Digital we are experts at what we do and have successfully created strong digital marketing campaigns for a variety of clients, ensuring a regular stream of new enquiries and extra income for their business. We strongly believe that a solid digital marketing team can make a huge difference to your business activities during hard times and ensures your business remains at the top of its sector in the long run.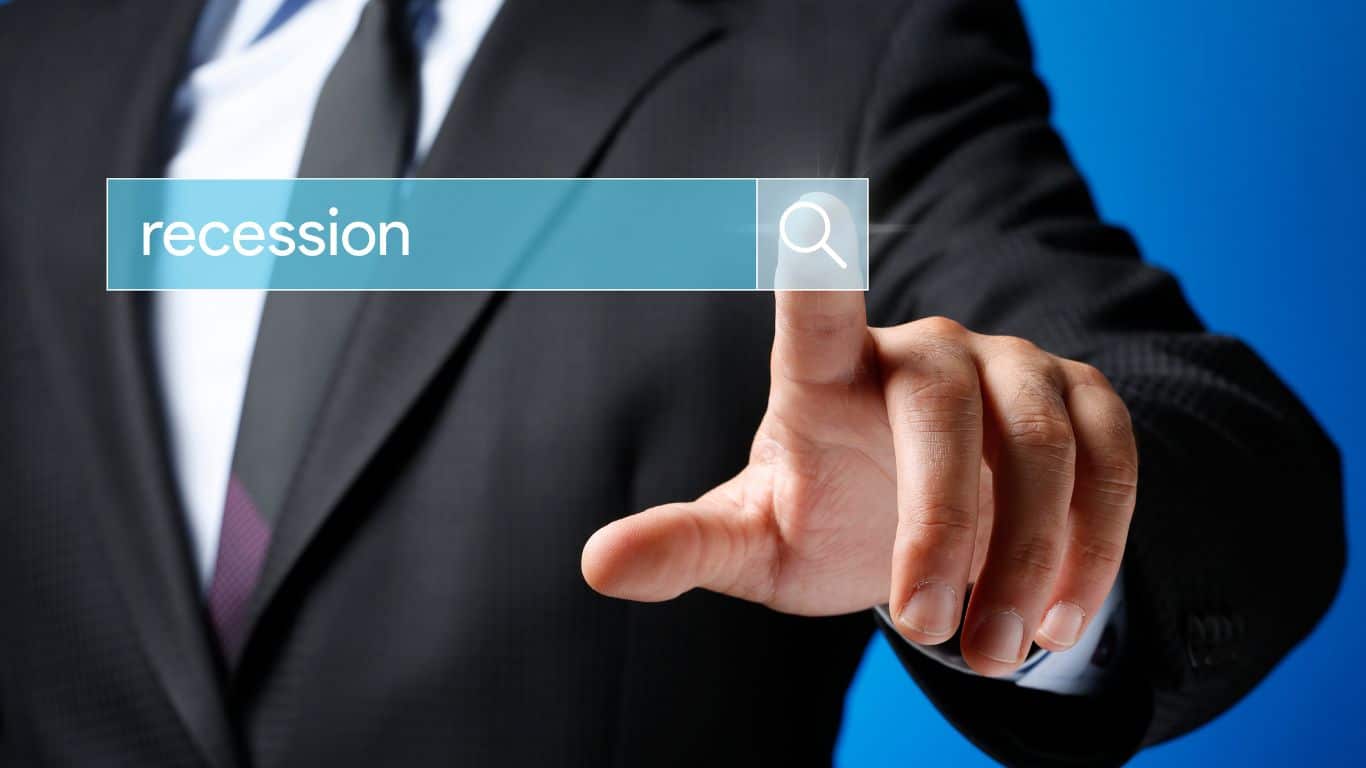 Why digital marketing is important during economic downturns
When a recession approaches, businesses tend to panic and try to cut down spending in areas they consider 'not as important'. Unfortunately, this has resulted in a lot of people assuming digital marketing is one of these unimportant areas of business spending which is absolutely not the case. Digital marketing efforts are to encourage new clients and new streams of income, and when will you need new sources of income more than during a recession?
It is important to remember that a recession is perhaps one of the best times to focus on marketing as it is highly likely that your competitors are not if they are also under the belief that marketing is an area that can take a step back during harder times.
Ultimately, no marketing means less likelihood of new clients, which is what businesses desperately need to have the best chance of surviving a recession. It has been reported that Global Ads spending decreased significantly to just 9% during the great recession in 2008, exemplifying just how drastic cuts to marketing can be. Yet think how much more your ads would stand out and be noticed in a market so quiet.
Ways to use digital marketing to survive a recession
Maintain your spending on ads
As recessions approach and businesses start to assess their expenses, one of the first things that they tend to cut is the money spent on adverts. However, from this reasoning it makes sense to assume that maintaining your ad spending would therefore be highly beneficial to your business if everyone else has cut their efforts, meaning your ads will stand out in a less crowded advertising space.
If your competitors try to save money by cutting their advertising then your brand visibility will stand out more, ultimately increasing enquiries and client conversion rates. Not to mention, that marketing and general advertising campaigns can become cheaper during recessions due to the lack of demand.
Keep spending time on creating relevant content
Even though the economy will be struggling, people will always rely on the internet and go to it for any information they seek. The internet will always be an endless source of information and as such it is important to continue to utilise the platform it gives your business by keeping up to date on relevant trends and searches.
Content production is extremely important in improving your online visibility as search engines also take into account how relevant your copy is and is more likely to show it. Creating content not just around your business activities but perhaps also linking it into the current economic crisis, providing tips and advice tailored to your service/product may help potential customers feel connected and supported by your business, in turn, resulting in new custom for you to get through recession.
Focus on SEO
SEO will always remain a powerful tool in the world of digital marketing. Though it is not something that will provide you with instant results overnight, it is important to keep in mind once it takes full effect that it can keep your business visible for years to come. SEO should continue to be focused on during a recession to increase your brand visibility for people searching for your services, whilst ultimately attracting a relevant audience.
Website auditing
A recession can present a good time to perform an audit on your website, making sure its functionality and design meet your expectations and will provide potential browsers with a satisfying experience. The more concise and appealing your website is, the higher chance you will have interested clients coming to you for your services.
Unnecessary graphics, videos, pages and links make for an overwhelming website and can put many people off utilising a business' services, so it is extremely important to always make sure your website is well designed and kept up to date with trends in user experience.
What to avoid during a recession
During a recession it is important to not lose sight and overlook your current clientele. Though it can be tempting during an economic crisis to panic and fight to ensure you keep getting new custom, the clients you already have can be a strong starting point to grow upon during a recession.
Focusing on client retention strategies ensures you continue to receive a steady stream of income and build strong long-lasting relationships. Clients that have used your business for a while are also more likely to recommend you via word-of-mouth referrals during a recession meaning you receive an organic stream of new enquiries and continued brand exposure.
You should also try and avoid changing up your marketing strategy during a recession. Though there is nothing wrong in adapting to changing trends to keep your business website up to date and relevant, changing strategies as a whole is likely to prove unsuccessful during a turbulent economic time.
Sticking to techniques you know and that have worked well for you before is the best way forward. Just because your marketing strategy might not yield instant results does not mean that it isn't working and won't prove highly beneficial for the long term.
How Bark Street Digital can help
Our team at Bark Street Digital have significant experience in helping our clients reach their marketing goals. Our expertise in digital marketing enables us to successfully apply a range of marketing techniques to best serve your business and increase your brand visibility.
We understand how daunting the thought of a recession can be and will work tirelessly to ensure your marketing efforts during an economic crisis put you above your competitors, ultimately setting you up in a prime position to become a well-recognised brand for years to come.
We can offer a range of services, from website auditing and content creation, to social media management and SEO strategies, our expertise is vast.
If you would like more information regarding our services and how we can help you and your business, then please feel free to get in touch with us today to find out more. You can contact us using the online form below or get in touch with our Director Stacey at stacey@barkstreetdigital.co.uk.
Get in Touch
01204 236028
Open Hours
08:30 – 16:30 
Monday- Friday
Our Office
4 Bark Street East
Bolton, BL1 2BQ