How to Market a Personal Injury Law Firm in a Competitive Market
Find out how we can grow your business
The legal market has evolved considerably in recent years. Notably, the space of personal injury practices has experienced significant shifts with recent changes to the legal market and consolidations. These transformations have amplified the competition, urging personal injury firms to revamp their marketing strategies. BSD Legal Marketing provide a comprehensive guide on how to market a personal injury law firm in these dynamic times.
How to market a personal injury law firm
Understanding the Target Audience: Prospective Clients
Before any marketing effort, it's imperative to understand your audience. For personal injury attorneys, the prospective clients are individuals who may have suffered due to another's negligence. By identifying their pain points, you can better tailor your marketing efforts.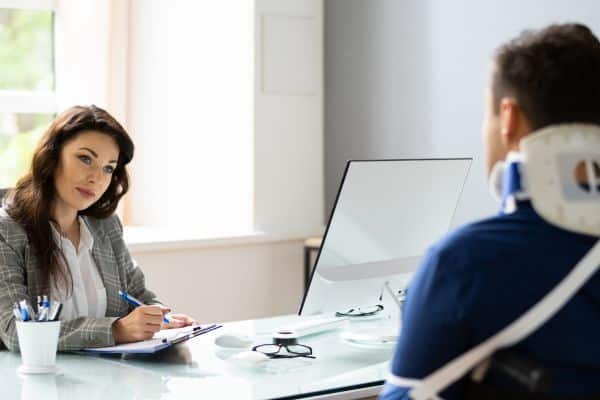 Robust Online Presence: Law Firm Website
In the digital age, a law firm's website is its calling card. Your website is typically the first interaction potential clients will have with your firm. Its design, layout, and content play a pivotal role in shaping their first impression. A professional, well-organised, and aesthetically pleasing website can build immediate trust, while a clunky or outdated site might deter potential clients.
A law firm website should prominently display the firm's experience and successes in personal injury cases. Highlight notable case outcomes, testimonials from satisfied clients, and relevant qualifications or awards that the firm or its personal injury attorneys have received.
Incorporate informative content that educates visitors about the intricacies of a personal injury claim. Detailed FAQs, blog posts discussing common concerns, or even downloadable resources can provide value and position your firm as a trusted authority in personal injury law.
In today's mobile-centric world, it's crucial that your website is optimised for mobile devices. Prospective clients may be accessing your site from a smartphone or tablet, and a responsive design ensures they have a seamless experience.
To enhance user experience and address immediate concerns, consider integrating a live chat feature. This can provide instant support to visitors, answer quick questions. Visitors can even schedule consultations, further bridging the gap between potential clients and your firm.
Search Engine Optimization (SEO) is Key
Given that many potential clients start their search for personal injury attorneys via Google searches, a strong SEO strategy is indispensable.
Optimising your site for relevant keywords can help you improve its visibility on search engines. This will increase the chances that potential clients will find your services.
SEO involves a range of methods including keyword research, on-page SEO and off-page SEO.
Use tools like Google's Keyword Planner or SEMrush to identify key terms potential clients use when searching for personal injury services.
On-page SEO is effective when website owners publish high-quality, keyword-optimised articles addressing personal injury topics. Each page should have optimised title tags, meta descriptions and url structures.
Off-page SEO involves boosting a website's authority with backlinks from reputable sources.
Harness the Power of Content Marketing
Content marketing offers an opportunity to showcase your expertise in personal injury cases. Regular blog posts or articles discussing different facets of personal injury claims, rights of the victims, or even myth-busting common misconceptions can position your firm as an authority in the domain.
Firms should also ensure all website content is optimised for search engines to give it the best chance of being seen by potential clients.
Engage in Targeted Ad Campaigns
Using platforms like Google Ads, embark on ad campaigns that target specific keywords related to personal injury. This can guide potential clients directly to your site. Additionally, consider using local services ads to display your phone number and call to action prominently.
How to Market a Personal Injury Law Firm using Social Media
Engaging with potential clients on platforms where they spend significant time is smart. Sharing client stories, discussing recent personal injury cases, and even offering quick tips can increase engagement and awareness.
Highlight Your Unique Selling Proposition (USP)
With the increase in competition due to consolidations, what sets your firm apart? Maybe it's your success rate, customer service, or your holistic approach to personal injury practices. Whatever it is, make sure it's evident in all your marketing efforts.
Leverage Local Services Ads
By using Google's local services ads, your firm's ad can appear above the standard search results. These ads only charge you when a potential client calls you directly through the ad, making it cost-effective and ensuring that your phone number is prominently displayed.
Effective Calls to Action (CTAs)
Every piece of content, be it on your website or ad campaigns, should have a compelling call to action, urging prospective clients to either call, email, or fill a form. This direct engagement can increase the conversion rates for potential clients.
Keep Monitoring and Adjusting
The realm of legal marketing is constantly changing. Regularly assess the effectiveness of your strategies, adjusting them as needed. Whether it's updating SEO tactics, experimenting with new ad campaigns, or introducing new practice areas, staying adaptive is the key.
Should you outsource your personal injury lawyer marketing?
Outsourcing to a legal marketing company offers law firms various advantages, especially in an era where digital presence and strategies can be the difference between obscurity and success. Here are compelling reasons to consider such a move:
Expertise & Experience: Legal marketing companies specialise in understanding the nuances of the legal sector. They possess the expertise to tailor marketing strategies specifically for law firms, navigating industry-specific challenges and opportunities.
Time Efficiency: By outsourcing, law firms can focus on their core competency – practicing law. Marketing requires significant time and effort; entrusting this responsibility to experts ensures it's done correctly without diverting time from legal matters.
Access to Advanced Tools: Legal marketing companies often have access to advanced digital tools and platforms that can be expensive or impractical for a single law firm to purchase. These tools aid in analytics, SEO, ad campaigns, and more.
Cost-Effective: While there's an upfront cost, in the long run, hiring a specialised marketing company can be more cost-effective. They can optimise marketing budgets, ensuring higher returns on investment.
Staying Updated: The world of digital marketing is always evolving. Legal marketing companies are committed to staying updated with the latest trends, tools, and algorithms, ensuring that the law firm's strategies are always current.
Comprehensive Strategies: Such companies provide holistic marketing solutions – from website design, SEO, content creation, to ad campaigns. This integrated approach often results in more consistent and effective marketing efforts.
Measurable Results: With their expertise and tools, legal marketing companies can provide analytics and measurable results. Law firms can thus understand their marketing ROI and areas of improvement clearly.
Competitive Advantage: In a saturated market, having a polished and strategic marketing approach can set a firm apart. Outsourcing can give law firms this edge over competitors handling marketing in-house without specialised knowledge.
Adaptability & Scalability: As a law firm grows or as market dynamics change, the marketing strategies need to adapt. Legal marketing companies offer the flexibility to scale and adapt strategies as required.
Risk Mitigation: Making mistakes in marketing can be costly, both in terms of finances and reputation. Professional legal marketers can help avoid common pitfalls, safeguarding the firm's image and resources.
Why choose BSD Legal Marketing?
BSD Legal marketing understand how to market a personal injury law firm effectively and can help you stay on ahead of your competition.
The team at BSD Legal come highly recommended by a number of law firms and businesses operating within the legal industry.
Our client portfolio consists of personal injury, commercial law, family law and legal costs firms.
We understand that when it comes to digital marketing for law firms, one size does not fit all. We offer bespoke marketing campaign packages to suit each business' needs at competitive prices. Some of the services our marketing consultants provide include:
Feel free to contact us using the forms on our website, or contact our Director, Stacey Owens at stacey@barkstreetdigital.co.uk
Get in Touch
01204 236028
Open Hours
08:30 – 16:30 
Monday- Friday
Our Office
4 Bark Street East
Bolton, BL1 2BQ
What we Do
SEO
Web design
Social media management
WordPress management
Find out how we can grow your business