The Importance of Local SEO
We've all been there, last minute searching through Google to find a fancy new date location to take your new tinder match on – "Fancy Restaurants in… [insert city here]". You see, digital marketers and business owners tend to spend the majority of their focus optimising their copy to get the widest amount of reach as possible. The importance of local SEO is often overlooked. However, generally, most people look frequently for places, products or services that are near to them locally. Therefore, local SEO should become more of a priority too.
What's the difference between general and local SEO?
General SEO (search engine Optimization) looks to improve the visibility of your website by ranking higher on search engine results pages (SERPs), but the focus is improving it worldwide or on a national scale. The main difference with local SEO is focusing on targeting leads from your local audience instead. Neither types should be taken for granted, they are both as important as each other. Local SEO marketing is the process of making sure that the search engines recognise that your business NEEDS to appear in the top results for these location-based searches.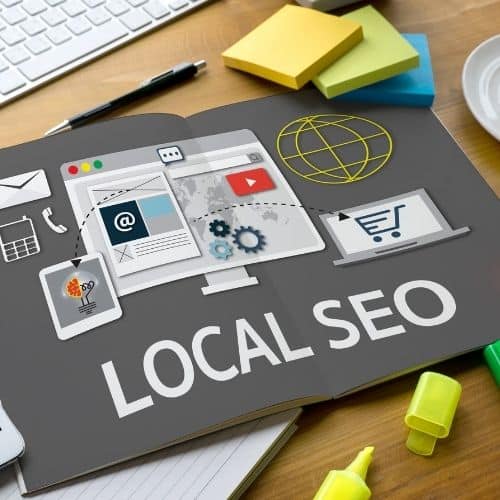 When trying to execute a local SEO campaign, the focus is on altering specific ranking factors. Make sure you do your due diligence by carrying out keyword research to find out what the best words to incorporate into your copy may be. Once you have that determined, start to add specific information like the town, city, post code-You can even add phrases like "near me" or "close by".
At Bark Street Digital, we specialise in creating SEO focused content. If you need help narrowing down your content to focus on your potential local customers and ranking higher on Google, then feel free to contact us today.
The importance of local SEO: Who needs it?
Businesses who need to utilise local SEO are:
–         Any business that travels to their customers. For example, Plumbers, electricians etc.
–         Any brick-and-mortar business with a physical location that customers visit. For example, a barber shop, café, restaurant, chiropractor etc. (Especially small businesses)
–         Any business that serves/ operates in a certain geographical area. For example, Restaurants who deliver, mobile hairdressers etc
–        Even fully digital businesses can benefit from local SEO by targeting specific geographical locations. 
If any of these describe your service, then this article is for you. Local SEO can start to allow you to bring more awareness to your local audience that you exist by utilizing Google searches or other search engines.
How to implement local SEO
When starting your local SEO campaign, the first step you should take is setting up a Google my Business account. This will allow Google to correctly add you to their Local Pack. When people search for a specific business or service, you may show up on the map results after setting up a Google my Business account.
Setting up specific local SEO pages to target local area searches and targeting specific local keywords within these pages will greatly assist in improving your rankings for local searches.
Adding you business details to a local business directory may also help potential cliebts to find out about your business using a search engine.
Benefits of local SEO
As a local business, you can provide something that your competitors can't – convenience. Distance and efficiency can be the key thing that converts potential customers into a lead. Using SEO will help to narrow your audience down to focus on your local customers when people google your business. Remember, sometimes it's not about casting a wide net, it's about where you decide to fish.
Local SEO allows you to bring your services to the customers who need it immediately. For example, statistics show that 67% of people who search for local restaurants convert within an hour. To come out on top of the local search rank, you must start to utilise local SEO.
Google is a great search engine to focus on as they have features that support local search. Whenever a search query has local intent to it, Google will tend to show a handful of local businesses in the 'local pack'. This pack of local businesses have their location shown on Google maps as well as the address and phone number too. 
You will need to provide all this information to Google so that they can provide this in the search results. The local pack allows for there to be more information shown about your business compared to others. This is known as Local Citations. It can sometimes show your rating, when your business is open, and so many other bits of information.
Final Thoughts
As you can now see, localised SEO is a fundamental part to marketing your business. In a day an age where people are looking for fast and effective results, optimising your copy for local search ranking is a must. People make search queries from their mobile devices and are usually looking for local businesses and services nearby.
There's no longer any need to rely on luck or social media to get you the customers you need. Start using local SEO strategies today. 
How can Bark Street Digital Assist?
Bark Street Digital provides a team of highly experienced SEO experts. We can assist your businesses by suggesting and implementing ways to improve local SEO so that Google can rank your webpages higher.
If you have any questions, please get in touch by calling 01204 263028 or by completing our Contact Us form.
You can find out more about the services we offer at Bark Street Digital by checking out the Our Services page.
Let's Get Started
Ready To Make a Real Change? Let's Work Together!