SEO for banks: Increase your traffic online
Find out how we can grow your business
SEO for banks is a vital tool in directring more traffic to your website. Banks work in a highly competitive market and need their business and services to stand out in order to obtain potential new clients.
Customers are searching the internet as their first point of call when looking for a bank to use, gone are the days of looking in the phone book or local newspaper. The internet now allows anyone, anywhere to find all the relevant information they desire on your business at the click of a button. A banks website, customer reviews and social media pages will all play a part in the potential to attract new customers.
If your website and relevant social media channels do not appear easily when doing an internet search for your financial institution, then this undoubtedly gives your competitors who are visible an edge. Ideally, you want your business page to be situated on the first page of a search engine result page. Very few people look beyond that first page of information when looking for their desired information or business.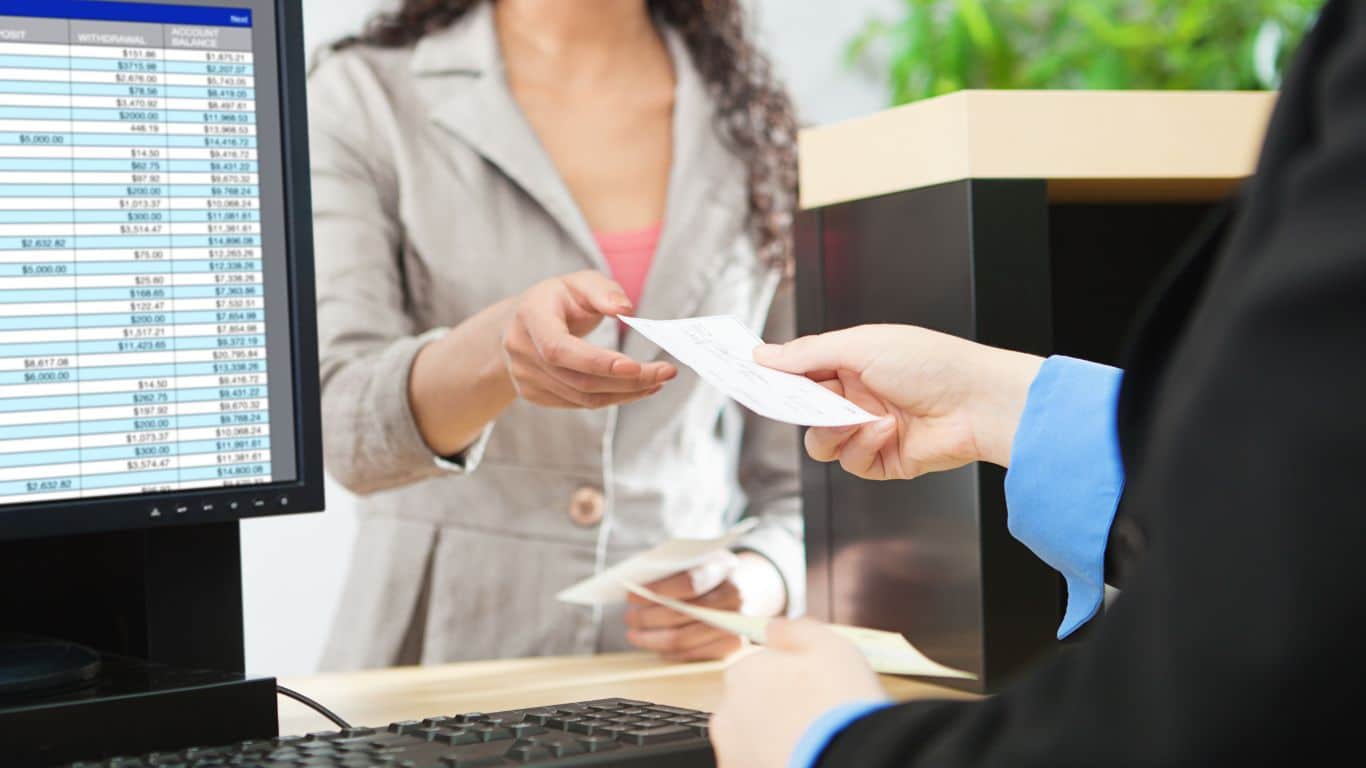 SEO for banks
Search engine optimization (SEO) for banks is vital for your business becoming more visible on the internet and should be the primary focus of your digital marketing strategy. With an effective SEO strategy, you are statistically more likely to be visible for clients to easily find you online and in turn, have a higher chance of new clients coming to you for your services.
At Bark Street Digital, we are specialists when it comes to all things SEO. Our team's experience working with clients from a range of industries provides us with a strong understanding of what people search for when looking for a bank. As an expert SEO agency, we can effectively analyse the most popular Google searches when people are searching for banks, as well as the search volume of particular related phrases, and can construct a personalised online marketing campaign to help your business grow and reach new audiences.
What is SEO?
SEO is one of, if not the strongest, tools a business can utilise to increase their online visibility and subsequently, their client conversion rate. SEO works by bringing together several components of your marketing strategy to boost your businesses presence on the first page of an internet search.
When someone searches for a bank, there are certain keywords and phrases we might expect them to use. If your website is utilising all of the tools available to you, such as your use of the key words, website speed and prime content, then we can expect the website to show up in a prime position during a web search, thus, generating more organic traffic and new potential customers to your business.
SEO specialists, such as our team here at Bark Street Digital, are experts at creating content that encourages people to notice your business online. Hardly anyone scrolls beyond the first page of an internet search, which it is why it is so imperative for your business to have a strong search engine optimisation strategy in place to be ranked higher on the first page of results.
The benefits of SEO for banks
SEO is important to banks as we know from experience that most people will go straight to the internet to find out which bank to go to for their services. If a person is in need of a bank near them, then they will rarely look beyond the first page of search results. This means you will not stand out against your competitors and therefore lose new potential clients.
Showing as one of the top results on a search term also helps your brand awareness, more people will become aware of your name and your services. This not only could benefit them, but they might also pass on your details via word-of-mouth referrals.
Ranking high also suggests that a business is credible and can be trusted, placing confidence in potential clients that your business is well-known in the financial industry and that you are serious about your reputation. A good reputation is arguably the most important thing many people will look at when deciding how to entrust with their money.
Techniques for successful SEO for banks
Web design – A well laid out website significantly improves user experience and shows that you take your online presence seriously. Site layout, structure, wording and the use of effective title tags and meta descriptions all influence how well your web page is to be perceived by the public. A layout that is adaptable to different devices such as a mobile device or a tablet also plays a huge role in how high Google will show your website on a search term.
Local SEO – Local search engine optimisation works towards targeting clients in your immediate local area, even if you are a national firm, many people still search for businesses in their towns and cities, especially for banks near them to easily access. A great use of local SEO is to setup a 'Google My Business' account which you can use to upload your phone number and address. This data enables your business to show up on Google map services when people search for banks near them.
Relevant content – Quality content goes a long way, and Google is known to prioritise websites that regularly upload new and relevant content. Updating old pages and adding new pages are a good place to start, always making sure you are keeping your information relevant and informative to what people might be looking for. Pages for FAQs, blog posts and testimonials are also good options.
Keyword research – Undertaking keyword research in order to create better quality content for your website is important. Researching what people in your area are searching for specifically will ensure your website and content pages have a higher chance of being visible on search engine results. The best keywords to include in your content are the less competitive yet highly searched keywords, including long tail keywords that may be more specific to your services or specific to your location.
Mobile friendly design – With most people owning a smart phone, potential clients are perhaps more likely to do an internet search on the go via their phone. Ensuring you have a responsive web design, meaning your website can adapt to whatever device is viewing it, is an important factor that Google also takes into account. Ensuring your website also loads and performs quickly, no matter the device it is viewed on, will also be a key aspect of a good SEO campaign.
Link building – Link building is an important tool in off-page SEO. Having links on your and to your website improve your businesses visibility and can effectively place you higher on Google search rankings. Link building can be achieved through social media engagement and guest blogging to name a few.
How Bark Street Digital can help
At Bark Street Digital, we have vast experience using a range of online marketing tools to help elevate your business and improve its online reach. We can use our expertise and marketing tips to get your website and information on your services to reach your target audience. Allowing you additional time to work on other areas of your business operations.
Google analytics is always updating and changing its criteria. Therefore, we advise that you consult an SEO professional in order to keep on top of these updates. Here at Bark Street Digital, our team have significant experience in providing SEO for banks, and we are confident that we can assist with any marketing queries you may have.
Some of the main SEO services we are able to offer include keyword research, full SEO audits, SEO content writing, website design and development, social media management and email marketing.
For more information on what we have to offer you and your business, or for a free initial chat, please contact us via the online contact form or email our Director at stacey@barkstreetdigital.com.
Get in Touch
01204 236028
Open Hours
08:30 – 16:30 
Monday- Friday
Our Office
4 Bark Street East
Bolton, BL1 2BQ
What we Do
SEO
Web design
Social media management
WordPress management
Find out how we can grow your business