Multi Channel Marketing for Business
Benefits of Multi Channel

Marketing
Multi channel marketing is a common marketing strategy that almost every business uses to interact with their target audiences. It is the practice of targeting and communicating with customers through a combination of different online and offline channels. Marketing channels can include websites, mail order catalogues, email, billboards, text messages, social media and search engines.
You may have one preferred channel, but it is important to include a range of channels within your marketing efforts. Using multichannel marketing can have many benefits over using one single channel to promote your services and goods.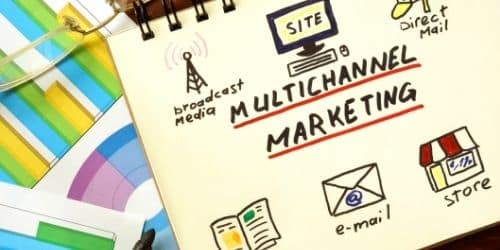 Reach More Customers
Expanding your scope and reaching more potential customers is one of the main advantages of using multi channel marketing strategies. When marketers expand into different marketing channels, they increase their reach amongst potential audiences. As some audiences are more likely to use some platforms over others, you will be more likely to find more potential customers by spreading your campaign out to different channels.
Create and Maintain Brand Recognition
Integrated marketing allows businesses to create increased awareness for their product or service on more than one platform or channel. Using the same designs, colour schemes, and logos across all channels will help you to create brand recognition. Increased brand recognition will be of great benefit as it will create a sense of trust in your company for potential customers.
Furthermore, the repetitive method of promoting your content to potential consumers in an un-intrusive and subtle way will further increase that sense of trust in your brand. Greater trust will lead to increased conversion rates and increased profits. 
More Methods of Communication
Making use of more channels in your marketing campaign will provide your customers with more methods of communication. This will help customers interact with your business using the channel of their choice. Multi channel campaigns allow you to access different channels that fit your target audience's needs and give them more of a variety in communication methods. Communication methods such as private messenger on social media or chatbots on company's websites offer different ways to communicate with potential customers and provides faster ways for customers to contact businesses. This quicker method may increase the number of customers to your business and could lead to higher conversion rates.
SEO
The more channels you use to post content on, the more likely it is that your brand name will come up on the search engine results page. When a potential customer searches for a service that is related to your company's service, they may find your brand's name show up more frequently than your competitors. This may influence more potential customers to click on your business sites or social media platforms when they appear.
More Touch Points
Having multiple channels means you have more touchpoints in your marketing funnel and allows you to collect more data. This new data can help you measure which platforms and channels are getting more activity for both your offline and online campaigns. This will help you understand which channel to post more content on and also may help you to understand your audience demographics. The attribution model section on Google Analytics will help you to analyse the results of your campaigns.
Promoting One Channel on Another Platform
Take advantage of your different platforms to help promote each other. This will help you attract more followers to less popular networks you may be running as part of your campaign.
 There are many ways you can do this, such as:
Post a short video you may have made on Facebook and tag the link to your Youtube channel to see the full video.
Posting a contest on your Instagram story and directing people to the Facebook account to enter it.
Putting all the Social Media channels usernames in the bio of each Social Media.
Linking to all other platforms from your business website.
More Accessible
Multichannel marketing has advantages over omnichannel marketing strategies as more and more people will be exposed to your content. Using different channels, both online and offline will help you to increase the chances of people seeing your company's brand name, whether that could be through channels including blog posts on your websites, or on posted leaflets or on billboard posters. This increase in visibility will offer customers interested in your products or services a good customer experience, as they will have many channels to choose from to find out information about your product or services.
How Bark Street Digital Can Help You
Bark Street Digital provides a team of highly experienced digital marketing strategy experts who are willing to help you. We understand the difficulty of setting up and keeping track of a multi channel marketing campaign, which is why our marketing methods can help you. If you would like one of our marketing experts to run your multi channel digital marketing campaign, then get in touch today by calling 01204 263028 or by completing our Contact Us form. 
You can find out more about the services we offer at Bark Street Digital by checking out Our Services page.
Let's Get Started
Ready To Make a Real Change? Let's Work Together!