How to Generate Leads for Small Businesses
Small business owners are always looking for ways to expand and grow their customer base. Business growth can be a difficult and frustrating process, especially when you do not have a clear marketing strategy. One of the main elements of growing a business is generating a consistent stream of sales leads.
A lead is a business or customer that has an interest in the services or products that you provide. Digital marketing is a crucial tool that can assist you by expanding your reach and helping you to target new potential customers. Digital marketing has become more important today than ever before. Do you know and understand how to generate leads for small businesses?
It's vital to take steps to create your marketing strategy since many small businesses know that digital and mobile channels are significant when acquiring and retaining customers. Yet these businesses don't have integrated plans in place to support digital transformation and company growth in order to engage their audiences effectively online.
If you would like to find out how to generate leads for small businesses, continue to read through this article.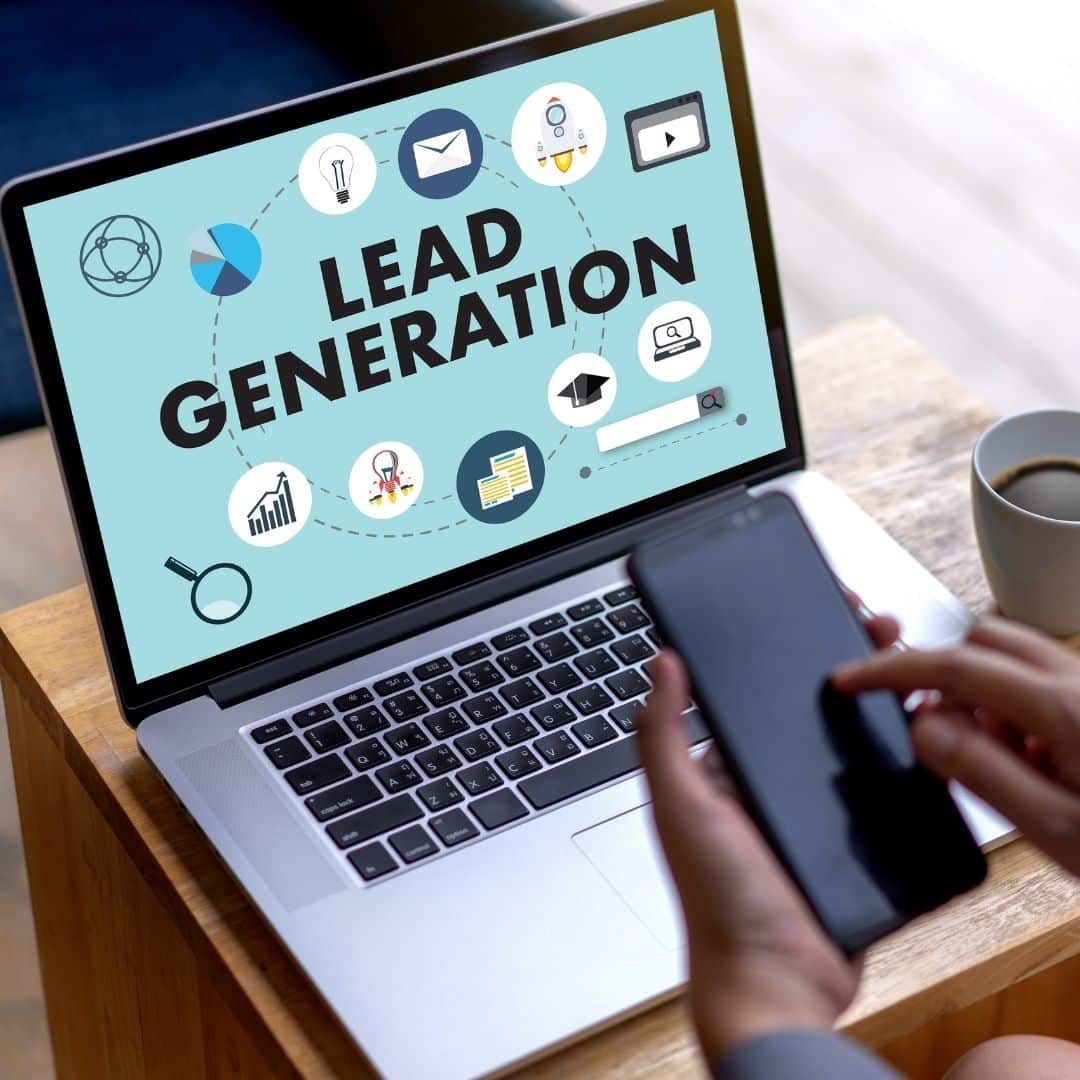 How can you generate leads for your business?
To generate new leads, it is essential to increase your business website's online visibility by using digital marketing methods. Increasing your websites visibility on search engine results pages (SERPs) will help potential customers to find your business as well as the products or services that you provide.
Search engine optimisation is one of the best and most underrated tactics for increasing your website's visibility. This is because over 70% of the world's online searches go through Google, so it is the method that your customers are most likely to use to find your website.
There are many things to consider when you want to generate new leads for your business website, some of which include:
1) Identifying your target audience
The first step in lead generation is to identify the audience you are looking to target. It is important to research your target audience to find out what type of content will attract them to your website. Identifying your target audience will also help with SEO content methods as it will help you to target specific keywords that your target audience may be searching for. Creating an online marketing plan as part of this step can help to determine what online lead generation strategies you should use going forward.
2) Create online content
Posting content articles and blog posts onto your website can help to make your website rank higher on search engine results pages. Search engines take many factors into consideration when ranking your website, including how relevant your web landing pages are in terms of what you are targeting and how often these web pages are updated.
Blogs and content articles provide the opportunity to create specific content relating to what your audience expects, as well as allowing you to obtain backlinks from other trusted sources. Creating valuable content can generate leads as web users can find these articles when searching for keywords that relate to your business and can find your website through these articles.
3) Implementing social media into your business
One of the most simple and cost effective ways of generating new leads and driving traffic to your website is by promoting your business on social media channels. Each post should include content that your target audience would be interested in, as this will intrigue them and make them visit your website through social media.
Using hashtags that relate to your business can help social media users to find your social media profile. Regularly engaging with potential customers on social media can also help to make your business appear more credible and trustworthy.
There are many social media platforms that have begun to close the gap between business and social media; one of these platforms is LinkedIn. LinkedIn provides businesses with the opportunity to generate business opportunities with both target audiences and other businesses.
4) Optimise your web pages for conversions
Your business website needs to be optimised in order to persuade individuals to do something. In terms of lead generation, you are typically trying to gain a potential clients contact information, such as an email address, phone number and their name.
In order to do this, you should ensure that your website has contact forms and contact numbers on all pages, blog posts and content articles that you produce. It is also important to make sure that your website page speed is optimal, as slow web pages can make potential leads lose interest in your website. Also, having a call to action on your page, such as a sign up or click here button, can help to improve your customer conversion rate as it prompts the website visitor to complete a certain action.
5) Creating online advertisements
Paid search advertising aims to ensure that businesses only pay for impressions that result in visitors, in this case, the impressions being clicks onto a landing page or content article. Pay per click marketing is designed to reach web users that need the information that your business is providing by showing up in results that they have searched whilst being less forthcoming, like marketing methods such as email marketing.
Creating online advertisements can help to generate new leads for your business as these advertisements appear high in the search results pages. Using online services such as Google ads and Facebook ads can help to make potential customers associate your business with what it is they are searching for. You can use these online advertisements to promote your business website, social media and products or even to attract attention by providing something such as offering a free consultation or a free trial of the services and free tools you provide.
How can Bark Street Digital assist?
Bark Street Digital are a firm of experienced digital marketing experts, providing a high quality service. We know exactly how to generate leads for small businesses as well as larger companies. Our current clients benefit from increased profitability because of their improved online visibility, thanks to our SEO services. We have also assisted in the improvement of online visibility for our clients by providing services such as web design, SEO content creation and social media management.
Your business may provide a fantastic service or sell a great consumer product; however, we understand that attracting potential customers is not always easy. All businesses, regardless of size, need great marketing strategies and marketing campaigns to create brand awareness and get their business noticed online.
We understand that when it comes to content marketing, one size does not fit all, which is why we offer bespoke packages to suit each business' needs at competitive prices. Have a look at our services page to find out how we can assist.
If you would like some free initial advice on your marketing strategy and assistance generating leads, or if you require a quote for our services, feel free to contact us.
If you would like to get your website noticed, please get in touch by calling 01204 263028 or by completing our Contact Us form.
Let's Get Started
Ready To Make a Real Change? Let's Work Together!