Law Firm Marketing: Beacon Law
The Bark Street Digital team have been working on a law firm marketing project with a Manchester based Personal Injury law firm, Beacon Law. Beacon Law offer a range of legal services and specialise in all types of personal injury claims, such as accidents at work, occupiers liability claims, claims against local authorities and RTA/ car accidents. We have liaised the Directors of Beacon Law to develop an online marketing campaign which would drive more potential clients to Beacon Law's website using a range of marketing strategies.
Why Did Beacon Law Require Our Assistance with Law Firm Marketing?
Beacon Law had a large client base prior to our involvement, obtained through various methods. However, Directors Mark Brierley and Karen Sproston recognised that there was potential to reach more legal clients by investing in a digital marketing plan.
Karen was particularly interested in developing and changing the appearance of the website to make it more user friendly and to incorporate more of the business personality into the website. Both Directors were aware of the benefits of using social media, as part of a marketing strategy, to reach more potential personal injury clients; however, like many other busy Solicitors, they simply did not have the time to invest in developing an effective social media strategy.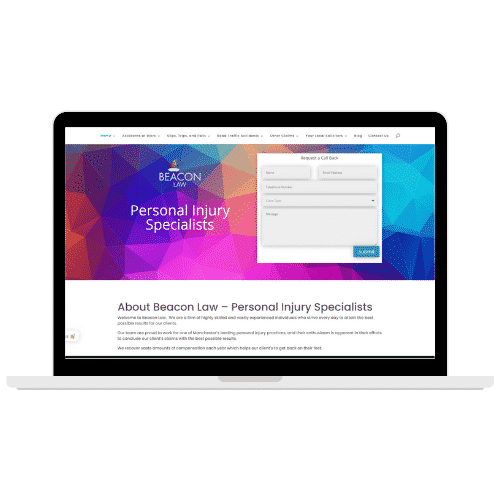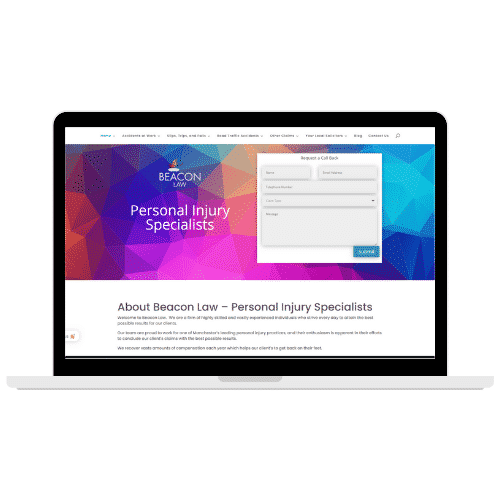 Which Law Firm Marketing Services Did We Provide?
Our personal injury marketing project with Beacon Law is ongoing and we continue to provide law firm marketing services to the firm to help increase their visibility, conversion rates and lead generation over time. The services we have provided to date include:
A complete website revamp – As the Directors of Beacon Law were not completely satisfied with the existing law firm's website, we agreed to a complete makeover within their marketing package. They felt that the website they had in place was a bit dull, and that it required a more colourful design to inject more personality and to keep potential clients engaged in the services which they offer.
We worked closely with the Directors and provided a range of colourful designs based on their ideas. When the Director chose the design which best suited their brand, we applied the design to all pages of the website and added colourful graphics and images to complement the design.
Technical SEO – There are many issues on a website which could drastically affect ranking positions within search results, including errors, slow loading pages and broken links.
The first thing we did when we started working on the Beacon Law website was obtain an SSL certificate to ensure security for visitors on the website. We also completed a full technical SEO audit and dealt with any issues on the site. As part of our marketing package, we complete regular technical SEO audits on the website to identify any issues ensure the website is performing well.
Finally, we ensured that the hosting provider was complimentary to the traffic we expected to the website, to ensure optimal speed for all types of users, from those utilising computers to those on mobile. 
The previous hosting provider caused form submission issues due to speed, which meant that enquiries were not being rapidly processed and this needed to be remedied to ensure all prospective clients were promptly responded to.
SEO Content Marketing Update – Content is one of the most important elements on a website. Incorporating Search Engine Optimisation (SEO) into all content on a website will help to ensure that your target audience finds your website when using a search engine.
Content can include written content as well as images and multimedia. We ensure that all images and videos on the website are optimised in a way which will ensure page loading speed is as quick as possible. We also optimised all of the existing written content within the landing pages and service page, and added new written content where required.
Keyword Research –  As part of our Search Engine Optimization plan, we identified a list of the best keywords which Beacon Law should target within their written content to help compete with other solicitors in this practice area. We then came up with a strategy on how to best target these specific keywords by adding new pages and writing blog posts.
Provision of Regular Written Content – To assist in the improvement of search engine ranking positions, we now provide regular, SEO friendly, written content in the form of blog post articles and service pages. We use the keywords identified and produce content with the intention of targeting specific keywords. We also incorporated local SEO into the content. Use of SEO has assisted in attracting more clients to the website from those Google searching personal injury related terms.
Social Media Management – As Beacon Law already had a Facebook page and Twitter account set up as part of their marketing efforts, we decided to further improve their scope for social media marketing by creating an Instagram profile for the business. We now schedule regular posts on behalf of Beacon Law to attract new visitors to the site and to keep potential clients updated on the services they offer. Regularly linking to the Beacon Law website on social media has also assisted in the improvement of search engine rankings by driving more traffic to the website. 
What Has Law Firm Marketing Campaign Achieved?
Since the initiation of this project, we have managed to create a more attractive and engaging website for Beacon Law for them to showcase the professional services they provide. We have seen an increase in traffic to the website as the result of improved visibility on search engines. We did this by improving rankings for keywords and adding pages to target new keywords. Using social media, we have generated new followers to all pages by posting regular content and have kept the existing audience updated and engaged in the services which Beacon has to offer.
Although the website's visibility has increased, the legal market, and specifically personal injury law is a very competitive area and, thus, more time, hard work, and patience will be required to improve search engine rankings further and to target more keywords. Search Engine Optimisation is something which should be viewed as a medium to long-term strategy and generally speaking, results will begin to arise after 3 – 6 months. Even when we reach the top-ranking positions on search engines, we must ensure that the Beacon Law website is kept updated to stay there.
How Can Bark Street Digital Assist With Your Law Firm Marketing?
 Do you require assistance with your digital marketing strategy? Bark Street Digital offer specialist marketing for lawyers at affordable prices. We are a team of experienced digital marketing and IT experts. Our current clients benefit from increased profitability and a huge return on investment because of their improved online visibility. We understand that when it comes to marketing, one size does not fit all, which is why we offer bespoke packages to suit each business' needs at competitive prices. Have a look at our services page to find out how we can assist.
If you would like some free initial advice on your marketing strategy, or if you require a quote for our services, or if you would like us to help you market your law firm, feel free to contact us. Our Director can be contacted via email at stacey@barkstreetdigital.co.uk or using the contact form below.
Let's Get Started
Ready To Make a Real Change? Let's Work Together!