Benefits of Podcasting for Business
 In the 21st century, the process of educating your customers about your brand can be difficult, time-consuming, and quite expensive. With several aspects of businesses changing daily in response to consumer needs and content market demands, it is essential that you keep up with trends in today's highly competitive market.
There are multiple forms of content to suit different people's needs. Nowadays, people do not always have time to read written content, such as long blog posts, whilst others prefer watching videos. Over the past few years, podcasting has become a popular way of communicating with an audience. Some of the main benefits of podcasting for business are shown below.
What is a podcast?
A podcast refers to a collection of digital audio files that are available to download or stream through the internet. An increase in usage of mobile phones has resulted in the growth of podcasting. Listeners may subscribe to the podcast to stream or receive the digital files once an episode has been uploaded.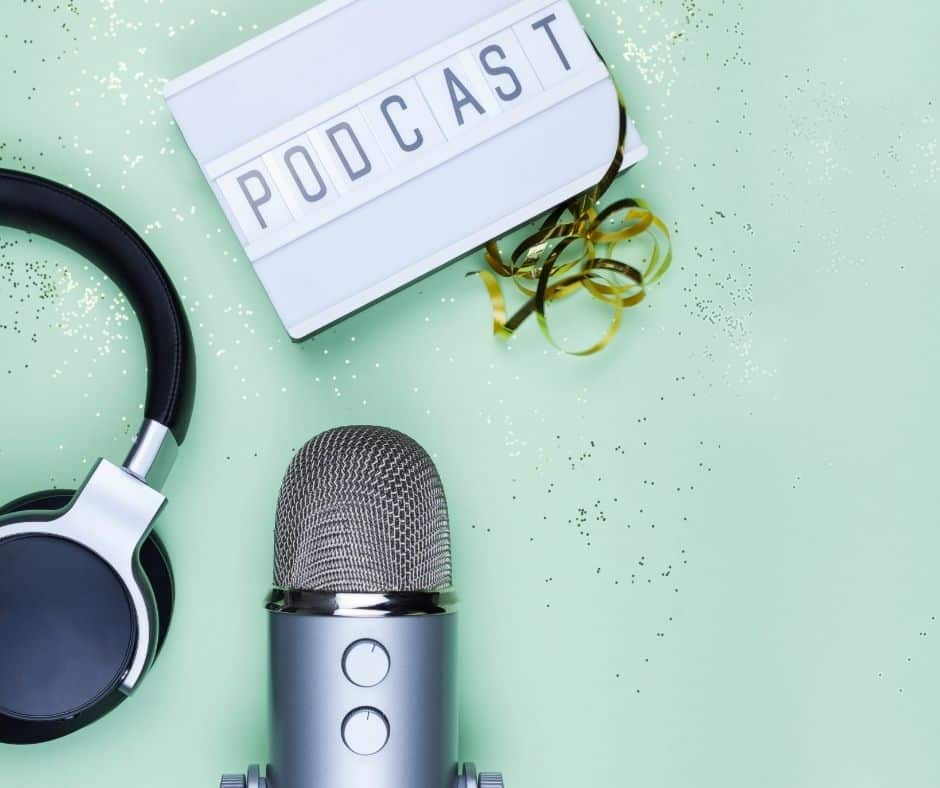 It is a highly powerful marketing strategy. Businesses can use it for various reasons including introducing your business, promoting products and services, storytelling or writing personal blogs.
Although podcasts are somewhat similar to blogging, it is still overlooked in the business world, and it can set you apart from other comparable businesses. If people feel like they can relate to your tone or attitude, they are more likely to buy whatever your company is offering. Thus, it can create an easier transition for video marketing options for your business later down the line.
Benefits ​of podcasting for business: Why should you start a podcast
Unlike written or visual content, people listen to podcasts anywhere and can be accessible on various apps. Many podcast apps are pre-installed on most technological devices, and it only takes a few clicks to subscribe to one. It will also notify subscribers every time a new episode is available.
Information available online can be overwhelming for your audience, so audio content can be a welcoming break. It provides a platform where you can easily convey your message in a highly interactive way. Podcasts also encourage a deeper engagement with your audience. Getting listeners involved through competitions or requesting questions through social media influences their buying decisions in a positive way.
A survey conducted on 300,000 podcast listeners found that 63% of respondents had bought what the host had promoted. Therefore, podcast subscribers are the some of the best prospects for brand loyalty and the growth of your business.
Podcasting can also become an additional revenue stream if your following is large. You may profit from sponsorships, affiliate marketing, and advertisers can pay you for short on-air readings.
Publishing your podcast on platforms, such as Spotify, Audible, and YouTube, where you can make money from your content is vital. The podcasting industry is huge, and the Interactive Advertising Bureau predicts the revenue to reach over £500 million this year.
You don't need to have special training or be an established content creator to learn how to create a podcast. There are many benefits of podcasting for business as shown below.
Podcasting is an alternative to video
Video marketing can be crucial for businesses. However, some businesses may not have the correct equipment, or the right lighting, sound, and background for creating videos that will stand out. Podcasting will benefit your business because you can take listeners away from a computer screen. You can create both audio and video podcasts so your audience can pick from the two options. Combining both is a great way to appeal to both listeners and video watchers.
Increase Traffic Generation
Using podcasts can help in building familiarity with a wide range of audiences, both new and old. Your business will become the centre of attention if people have more ways of consuming your content. If your audio series continues and stays consistent, your audience will keep listening and recommending to others. Hence, this increases reach and improves traffic to your website.
There is also space to advertise your social media profiles and website as well which will encourage potential customers to visit.
Builds brand awareness and identity
Many podcast directories allow people to search for subjects or industries that interest them. More people can ultimately find your platform if your expertise interests them. Therefore, this will help in building your brand recognition, authority, and credibility.
Although the branding can be subtle, it is a great way of connecting your brand name to your logo, as well as the podcast itself. The goal is to advertise and make them interested in using your products or services. Podcasting isn't really a sales tool, so listeners will remember you without feeling like they are being sold to.
Cost and time effective
Podcasts can be produced quickly and do not need much editing. Hosts should make sure they are well prepared before recording their conversations- they can do this by preparing show notes to help the conversation flow.
As podcasts are delivered digitally, many costs associated with meeting and storage costs are eliminated. They do not need to be produced in a studio and it can be relatively cheap to set it up. Some podcast hosting services are free, and you do need to pay for editing software if you can do this yourself.
Setting up a high-quality podcast in an afternoon is easy and does not involve many steps, so you can imagine the potential ROI. Equipment required is also reasonably priced because all you need is a good quality microphone and headphones, a good WiFi connection, and email to set it up.
It is important to consider investing in better equipment for better quality if the podcast becomes successful. If you are just starting your journey, it is simple.
Improves Public Speaking skills
Hosting regular podcasts helps you develop confidence and speaking skills in public. This is particularly beneficial for your business should you need to take part in public speaking or sales pitches to promote your business.
How can Bark Street Digital assist?
Bark Street Digital provides a team of highly experienced digital marketing experts. We understand the vast amounts of benefits of podcasting for business. We can assist your businesses through the launch of a podcast to help you grow your customer base.
If you have any questions, please get in touch by calling 01204 263028 or by completing our Contact Us form.
You can find out more about the services we offer at Bark Street Digital by checking out the Our Services page.
Let's Get Started
Ready To Make a Real Change? Let's Work Together!